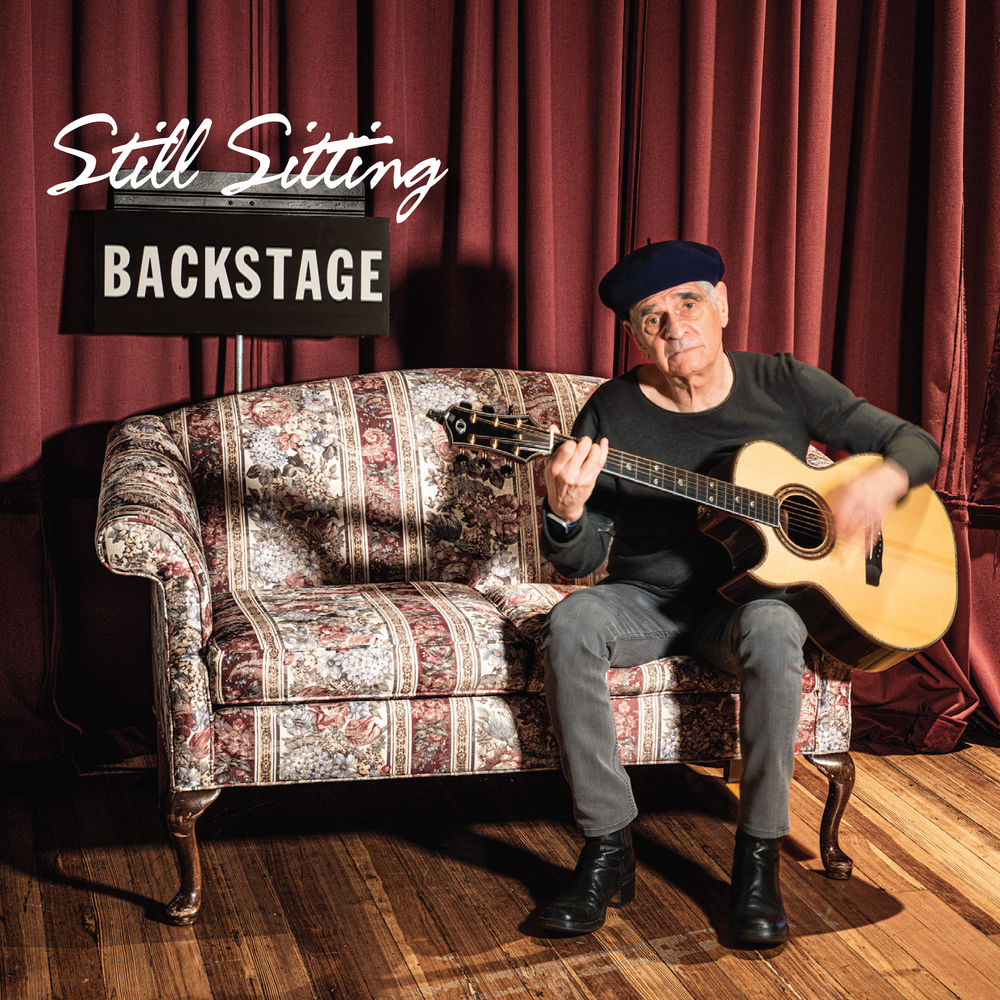 Still sitting backstage
Release date november 18 2022
Still Sitting Backstage is Bob Davoli's newest record, following his powerful debut, Wistfully Yours, as well as an album of John Prine songs, Hello Out There, recorded as a tribute to one of Davoli's most important influences.
So, after Wistfully Yours and Hello Out There comes Still Sitting Backstage, his fifth record. That's not an error. There are three different versions of Wistfully Yours out there: the sprawling 37-song deluxe version (all but one song an original), a 15-song condensed single-disc version, the result of lively arguments about which tunes would make the cut, and a solo edition which presented 11 songs performed by Davoli alone, singing and playing guitar without accompaniment.
For Hello Out There Davoli split the difference between the complex and jazzy arrangements of Wistfully Yours and the solo approach, going with a smaller band that nonetheless, because of the sensitivity and fluency of the musicians, crafted lush sonic landscapes in which Prine's lyrics could nestle.
You could say that Prine provided the blood, Davoli's fingerstyle guitar playing and singing became the heart and the circulatory system was created by Kathleen Parks on fiddle and harmony vocals, Kevin Barry on lead electric guitar, dobro and lap steel and Jesse Williams on string bass.
This worked so well that we were all hoping Bob would do it again, and he has, getting the same band together, this time to work their magic with his own material, all the songs here making their debut recordings and almost all of them newly written as well. Once again, the musicians are sublime, unerring and astonishingly adroit and heartfelt.
While there are a few nods to terrain already covered—a "beautiful mess" here, a Leonard Cohen reference there—and a similar autumnal, rueful, valedictory and, of course, wistful feeling to many of the songs, Davoli's new songs sharpen the imagery and narrative structure throughout.
Whether we're hearing from a "Fallen King of the Cool" in faded blue jeans or, as in the title song, an enigmatic older man wrestling with longing and anger, there's an emotional thread that combines nostalgia with regret as well as, in songs like "Dust in the Wind," a keen awareness of mortality.
There is hope, too, though it's not as present as you might expect in "New Hope Express" or "Quantum of Hope." It comes last, as it did in the Pandora myth, taking center stage for the final song, "Dawn Interrupted." The imagery and feelings here are almost saturated with contentment.
And with this conclusion, the contrast between the joyful beauty of the music and the more sorrowful beauty of the lyrics is resolved, bringing spiritual and emotional tensions into a gorgeous harmony.
Is Bob Davoli really still sitting backstage? The spotlight seems to have found him here.
Robert Price
Composer/arranger/guitarist/writer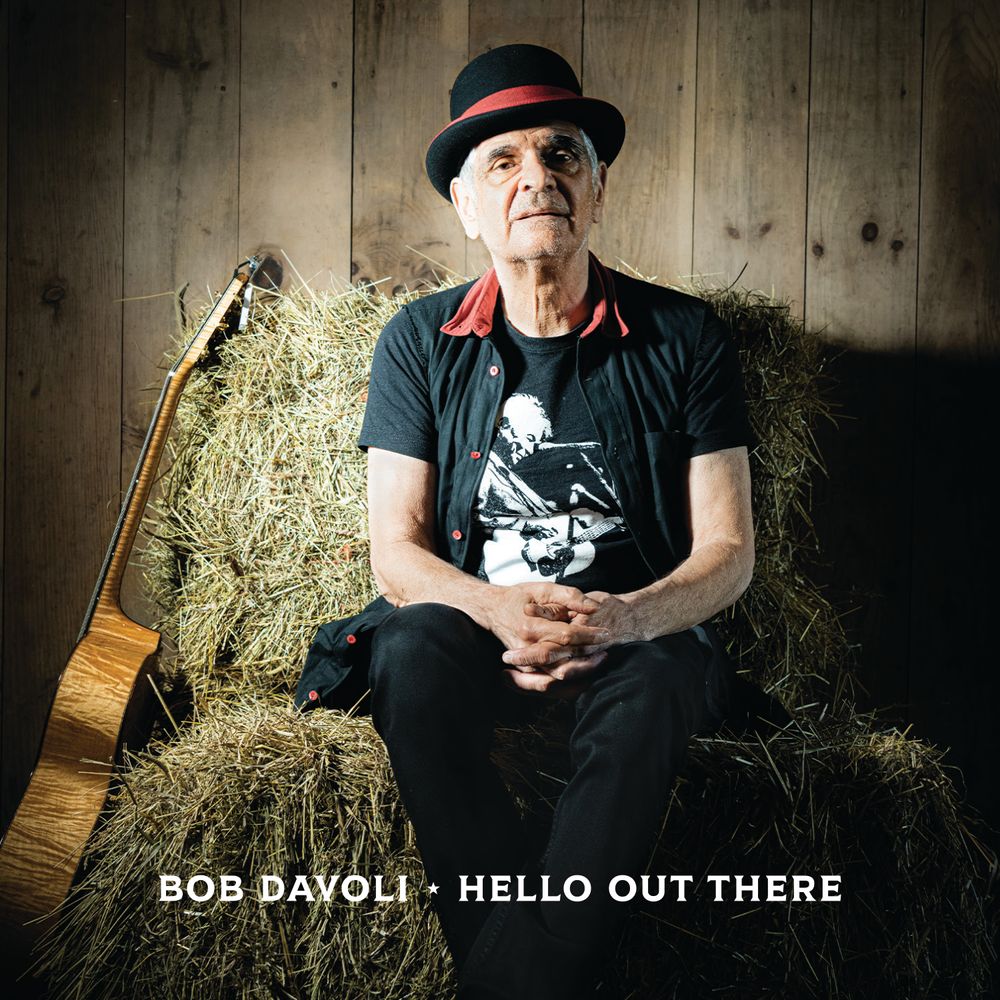 hello out there
release date april 2022
When I first heard John Prine's eponymous first record, in 1971, like many others, I was blown away by songs like "Sam Stone" and "Hello in There."  He narrated his poignant vignettes with a plain-spoken and plaintive voice, and his imagery was so compelling that you could clearly see his characters in your mind's eye.  Prine had an innate knack for finding just the right words to sculpt his stories and illuminate the essence of the emotions he seeks to convey.  He wrote from his gut and aimed for your heart because that's where most people live!  His writing epitomizes the power and beauty of simplicity.
Bob Davoli
I consider myself fortunate that, over the last few years, I've been able to have conversations with Bob Davoli as well as John Prine about their songs. I was introduced to Davoli as he was preparing to release his debut album, Wistfully Yours, in 2021. We talked by phone for about an hour, working together to shape his story – and a rare one at that. A 72-year-old releasing a debut album doesn't happen every day.
In a similar assignment, I met John Prine at the offices of his record label, Oh Boy Records, in 2018. In ramping up for a release, artists will often distill the story of a new album and their career into a bio, which often runs about a thousand words. How do you tell John Prine's life story in a thousand words? It may be easier than you think with such a natural storyteller. The trick is capturing the personality.
Even those who never met John Prine probably have a firm grasp on that personality. Cheerful. Witty. Generous. When he walked into our interview with a bucket of KFC and that signature grin, I knew I would never forget that interview. We talked about the songs on The Tree of Forgiveness, not knowing it would be the final album released in his lifetime. And I remember that we talked about Paradise.
In his 2017 songbook, Beyond Words, Prine included a two-page photo spread of the machinery that obliterated the town of Paradise, Kentucky, where he had family roots. It seemed to me then that he still gave a lot of thought to his early life experiences, and although the song "Paradise" has been around for more than 50 years, its message holds firm. Its nostalgic narrative is a terrific way to open this album.
By choosing acoustic arrangements for these Prine classics, Davoli is putting the story front and center. And sometimes a fiddle solo brings out the sadness in a song just as much as the lyrics do. In his weathered voice, the heaviness especially comes through in "Speed of the Sound of Loneliness." You can feel it when he wonders aloud, "Well, how can you ask about tomorrow? We ain't got one word to say."
Prine's sly sense of humor has been well-noted since his 1971 debut album, but something given less attention is his ability to set the scene. Hearing "Far From Me," you might feel as if you're sitting in that café. Documenting the unraveling of a relationship, Prine and Davoli know how to make the most of a brilliantly understated line like, "Well, a question ain't really a question if you know the answer too."
It's hard to imagine a John Prine tribute album without the inclusion of "Sam Stone." Here, Davoli's gentle tone pulls in the listener, even though Prine's fans already know how this tale ends. But even if it's your first time to hear the song, you can picture Sam, his kids, and the house he bought on the G.I. Bill. Prine also incorporates a quirky saying he learned from his dad: "Little pitchers have big ears."
Although he was working as a mailman at the time, Prine was dabbling in performing when he sang "Sam Stone" at a Chicago folk club back in 1970. The young newspaper reporter Roger Ebert happened to be in the audience. Stunned at his discovery, Ebert wrote an auspicious and admiring review for the Chicago Sun-Times, giving Prine his first major press clipping. Soon, he traded his mail route for the microphone.
The last original song that Prine would record, "I Remember Everything," is imagined here as a duet with Kathleen Parks, in the spirit of Prine's own duets with women he admired. This exquisite and sincere rendition underscores Prine's consistency as a songwriter. He posthumously received two Grammys for that swan song in 2021, one year after the Recording Academy bestowed a Lifetime Achievement Award.
You can't stay too sad, though, when you listen to John Prine's music. On "The Great Compromise," I find myself laughing and also feeling pity for that character. Then those final verses show a relationship that's more complicated than you thought. In contrast, there isn't much of a narrative in "Summer's End," but the ache in Davoli's voice and the imagery in Prine's writing make it a standout on this album.
In our interview in 2021, I asked Davoli about the first time he listened to Wistfully Yours top to bottom. He told me, "When I sat down and put the headphones on, these weren't just songs to me, they were a lifetime—they were the story of my life." Perhaps the same can be said for this record. Although these two musicians never had a chance to know one another, there is a familiarity here. A comfort.
I was pleased to get reacquainted with "Donald and Lydia" on this album. At my first magazine job out of college, the editor-in-chief discovered that I didn't know much about John Prine. He ordered the box set called Great Days for me, and I wore that thing out. For some reason, I kept coming back to "Donald and Lydia." It's hard to say why, but I think the way he'd interject a short word or a name just captivated me.
From then on, whenever I'd go see Prine perform, his good nature radiated from the stage. It can be an emotional experience to hear someone in his 70s reflecting on his "Souvenirs." However, I'm also happy to recall the night in Nashville when I witnessed Bonnie Raitt and John Prine singing "Angel From Montgomery" together. Experiences like that are my own souvenirs. True, it took me years to get them.
Davoli concludes this album, Hello Out There, with one of Prine's masterpieces, "Hello in There." A poignant and perceptive ballad about aging, but delivered by a young narrator, it's been recorded by the likes of Joan Baez, Emmylou Harris, Jason Isbell, Bette Midler, and Gillian Welch & David Rawlings. I have to believe that John Prine would be delighted to hear Bob Davoli's bittersweet version too.
Craig Shelburne
Craig Shelburne, a music writer and journalist of over 25 years, has interviewed top-tier musicians such as Tim McGraw, Chris Stapleton, Reba, and Luke Bryan, among others. Craig is also author of an upcoming biography of country legend Don Gibson.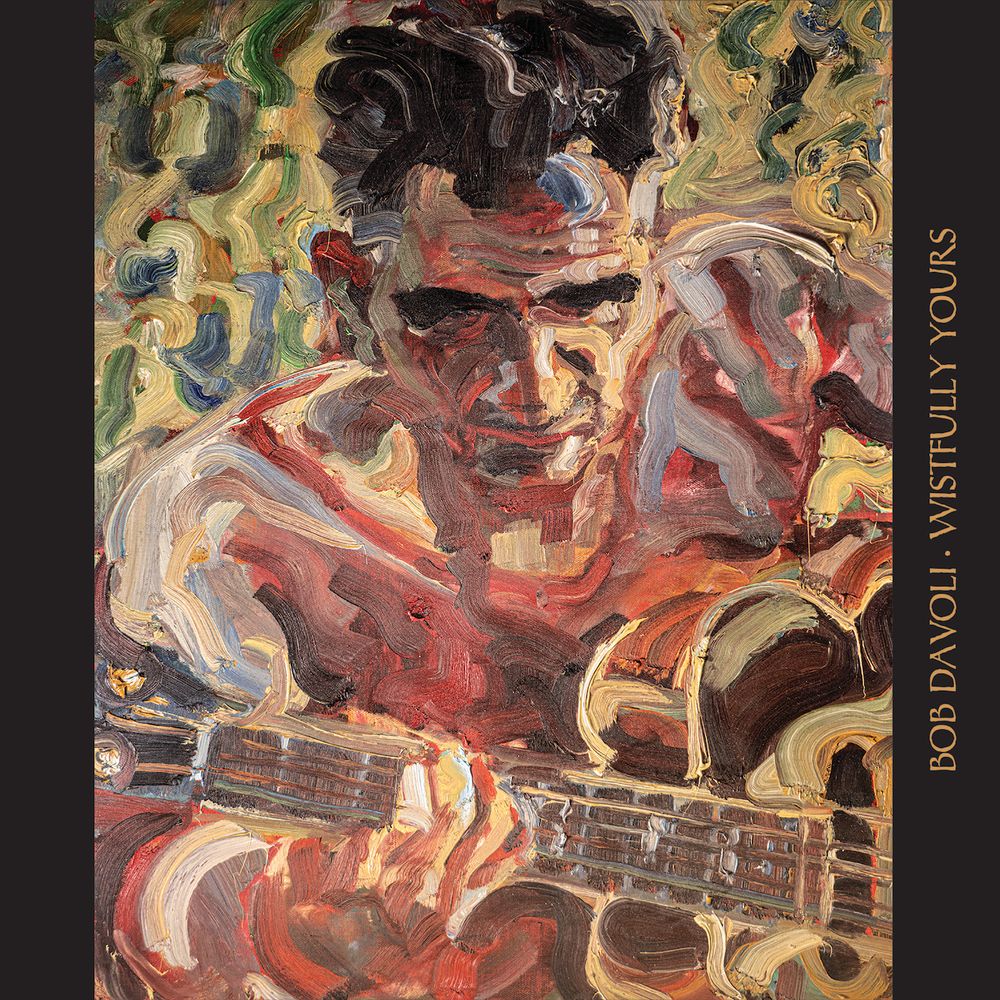 wistfully yours
Release date march 2021
"Wistfully Yours," the name of this record, is a phrase you'll find in the song "Prelude to Our Last Hurrah." It certainly fits. But pay some attention to Bob Davoli's lyrics and you'll find that it's an understatement. All of his songs have a degree of intensity greater than the word "wistful" can contain or convey. "Let me down slow," Bob sings elsewhere, and by presenting this album to you with the gentle title "Wistfully Yours" does something similar. It brings you up slow, reels you in slow. But each song inhabits a world of extreme feeling—feeling both emotional and sensual.
 
The emotions tend toward longing and desire, regret and nostalgia. The ecstasy of new love is inevitably followed by heartbreak. Passionate relationships bloom and, in their destruction, might unlock a memory of a time you watched a speeded-up film of a blooming flower and realized you were seeing an explosion.
 
The songs of Bob Davoli are similar explosions of creativity and beauty and, in their poignant reckonings of lost love, unlived lives, childhood trauma and the always lurking specter of mortality, sadness and some very carefully measured portions of hope and uplift. In short, the human condition, or at least critical elements of the human condition. (Your mileage may vary, as they say.)
 
The sensuality involves the visceral thrills of human artistry (Edward Hopper, Peggy Lee, Elvis) as well as earthier pleasures ("Take a huge swig of the now," "Drink the whole damn bottle," "Oh, she was so damn beautiful").
 
Bob might not be familiar with singer/songwriter/guitarist Jonathan Richman, but Richman's oft-quoted remark (about The Shaggs) that "one song about your real life is worth ten 'professional' songs" comes to mind while listening to this body of work. Except that these songs are as professional as they are personal, not just in the sophisticated and poetic lyrics but also in the advanced harmonic structures and movements.
 
There's an interesting tug of war at work here. Listen to the words. They're generally very simple and direct. The effectiveness of this approach has been accepted by countless singer/songwriters going back at least to Hank Williams, an early and exemplary proponent of the style and one whose work almost certainly left a strong impression on Bob.
 
An even more salient influence at work must be another Bob, Dylan, who himself absorbed the "simple and direct" approach from Woody Guthrie but went on to express himself in phraseology liberated from convention and so far removed from the conventional that songwriters ever since have found themselves with a freedom inherited from Dylan, to do what they will (in much the same way that, say, Jimi Hendrix bequeathed a particular freedom to anyone who will ever want to play an electric guitar).
 
And so Bob Davoli effortlessly combines the familiar and the everyday—"The mortgage is paid in full," "Now the kids have all grown up," "I can see you looking at me," "It still hurts me after all these years"—with the unusual, the unexpected and the surreal—"Tonight I tattooed a picture of the midnight sun over my heart / To help you find your way back home" or "Welcome melancholy, grow a poetic tree, let it blossom in your broken heart," to pick just two examples.
 
Other influences are at work here, mostly quietly in the background but not always. "Ode to Eugene O'Neill", for instance, presses into service the titles of twenty-five O'Neill plays to serve as most of the lyrics. Not only is this a cousin or some sort of relative to the cento, a.k.a. collage poem, which has been around for a couple of thousand years, it also signals the influence of the playwright on the songwriter. Certainly the two writers have in common an urgency to examine challenging emotional and spiritual extremes of human experience. And when Bob sings, in his tribute to O'Neill, "I wish I had the nerve / To shoot for the moon / To ride on a rainbow / To fall in love with my long, lost dreams," this listener can only think in reply, "Don't you? You do!"
 
Another song mentions the protagonist of Arthur Miller's Death of a Salesman, again with some clear overlap in feeling and intensity. And then there's another extremely important ancestral home for a distillation of human pain that nonetheless spreads hope in the exquisite and moving beauty of its expression. It's generally referred to as "the blues" and if it isn't the beginning of Bob Davoli's journey as a singer/songwriter—due diligence requires a consideration of his youthful love of classical guitar—it's a very early way station.
 
The music itself, as you'll hear, drifts unencumbered into and out of the territories of folk, blues, jazz, country and pop, but an obsession with and intense study of the blues, begun decades ago and with the support and guidance of master blues guitarist and bonafide blues expert Paul Rishell, must have been the Promethean spark that inspired Bob to share his own blues, his own insights into what he sees as the human condition. The inclusion of Charley Patton's "Some These Days I'll Be Gone" the only cover among thirty-six originals, is a testament to how important the blues tradition is to Davoli's own process.
 
It's clearly very personal. And that it's also very professional should be clear from the first few notes of any song. Not only does Bob execute complex and difficult guitar parts, he does so without apparent effort or error. And he's in the company of, literally, some of the best professional musicians in the world. There's no need to go into their respective merits here. You can hear them for yourself. And while this is all Bob's music, I think every listener will feel that these deeply connected, sensitive and preternaturally gifted singers and instrumentalists have all become, through the openness and generosity of all concerned, essential and indelible components of Bob Davoli's musical landscape.
 
So why not give it a go?
 
Robert Price
Composer/arranger/guitarist/writer
I met Bob around the time when he had just written his first song "Miss Peggy Lee Sings the Blues". Since then his musical journey has been a non-stop explosion of creativity. There's an innocence of expression to his songs, an honesty that comes from someone who has something to say and a need to say it. Images of a midnight sun, rivers in ¾ time, silent wind chimes and kindred spirits, all tell stories of love lost and found, and a longing to make sense of it all - a wistful nod to the world.
 
Bob's music is as rich a musical tapestry as his influences - from country blues to modern jazz, to the great country and folk songwriters – and difficult to categorize. Jazz infused folk? Chamber jazz infused with country? To me it is simply art music. No ego, just an expression of something completely original. Along with Bob's relaxed vocals and crystal guitar work, the arrangements are beautifully sculpted to create a unique backdrop to each story. The ensemble that features some of the finest musicians in the country sets up a sensitive musical conversation that is full of surprises - from the harmonic sophistication of "Rear Window Waltz" to the simple honesty of the country song "Waxing Poetic".
 
Bob has said that his writing is not a choice but a need, and his songs are moments in time. These thirty-six original tracks represent the work of an artist who digs deep and puts his heart on the line. Enjoy these timeless moments from the soul of an artist.  
 
Woody Mann
Guitarist, author, producer
visiting artist, Berklee College of Music
One of the many things I admire about Bob Davoli and his music is that from his first original song, Bob was coming to you from a world solely of his own creation. His chord progressions are unique, his melodies adventurous and musical. He surrounds himself with sensitive, world-class musicians with whom he creates beautifully quirky arrangements. His voice is that of a much younger man while his stories are those of the world-worn traveler. His lyrics are deeply felt, mature and reflective. They are honest and personal. They are at once deep and whimsical. They can simultaneously be sad and optimistic.
 
Together, all these elements create that most elusive result – music that is completely ORIGINAL. He's created "Davoli Land", with its own soundscapes, characters, humor and pathos. That makes Bob Davoli an "artist" – musical, honest, original.
Chuck McDermott
Singer/songwriter
2015 inductee into the Massachusetts Country Music Hall of Fame
So, the spirit of John Prine and Bob Dylan are whisked away to another dimension, and it returns as the songs of Bob Davoli. Over the last decade, I've listened to Mr. Davoli's music mature into a fine edged knife of clear, soul touching expression. His commitment to becoming a current musical force has been a delight to watch. Bob is, by any standard, the real thing. Showcased by exceptional recording and production, his first collection soars. Nice to know that someone is committed to getting it right.
Livingston Taylor
Acclaimed singer/songwriter